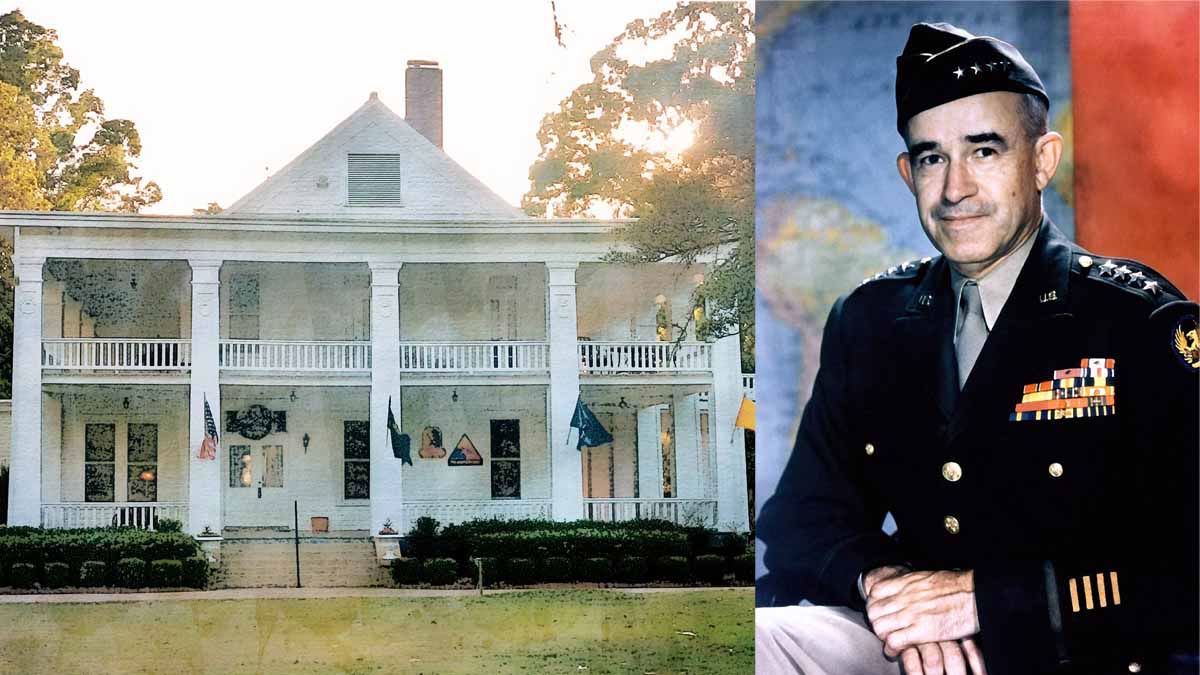 As a young military wife, I had the good fortune to work with writers, compilers and a brilliant artist (Mrs. Chester I. Christie aka Allison) on a heritage cookbook published by the Officers Wives Club at Fort Benning, Georgia. The cover of our cookbook had an etching of beautiful Riverside  (pictured above with General Bradley), which was quarters for the Commanding General of Fort Benning.
Through the years, this cookbook has been a favorite of mine! The Quiche Lorraine page is spattered.  There are sticky fingerprints on the Strawberry Bundt Cake pages (I made it for my own birthday for years). The famous Country Captain Chicken helped me win a recipe contest at Fort Carson, Colorado.
The Riverside section at the front of the book has elegant hot appetizers, drinks, finger goods, and other food for entertaining that was served at the famous home. My own favorite recipe is General Omar Bradley's Baked Beans. It's in the Officer's Call section of the book, where all recipes came from US Army Officers who were Infantry and/or stationed at Fort Benning. Each recipe was accompanied by a story. Every time I make this recipe, I imagine General Bradley sipping Cognac as he prepared the beans! These are always an empty-dish hit at parties or pot lucks.
1/3 cup brown sugar
1 teaspoon dry mustard
1/2 teaspoon of salt
1 Vidalia onion, thinly sliced
1/4 cup Cognac
1 teaspoon instant coffee powder
1 tablespoon apple cider vinegar
1/2 cup water
1 20-oz cans of *baked beans
4 slices of applewood smoked bacon (cooked crispy)
*We noted that General Bradley used Campbell's Pork and Beans, which were standard issue in the Army Commissary. Navy beans also work well in this recipe. You can refer to them as "Army beans" if you want to!
Take a sip of the Cognac to start with. Then, mix the brown sugar, coffee powder, vinegar, mustard, salt and water in a small saucepan and cook over low heat for about 5 minutes.
Layer beans and onion rings in a casserole dish or iron skillet. Pour the hot spice mixture over the top. Cover and bake at 350° for about 45 minutes.
Stir in the Cognac and crumble the bacon on top. Take a sip or two of the Cognac. Return the dish to the oven and reduce the temperature to 325°. Bake uncovered about 30 minutes more. Cool slightly; serve warm.