It's a mouthful and definitely a fascinating story — or two, or three. Let's begin with a forgotten seamstress in London more than a century ago …
The Forgotten Seamstress | Liz Trenow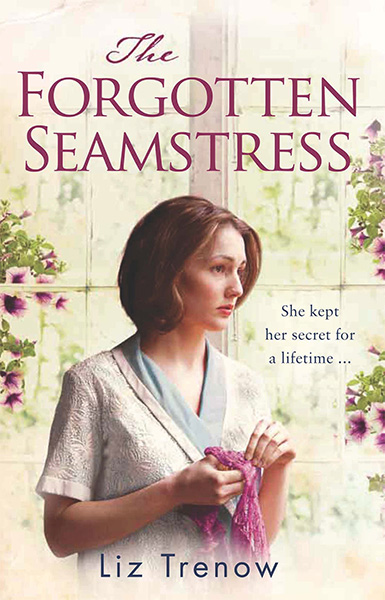 A synopsis of this book (published in 2014) by the author: "London, 1910: Maria Romano, a remarkable young seamstress, is noticed by Queen Mary, patron of the London Needlework Guild, who gives her a job in the royal household. A century later, when turning out her mother's loft, Caroline discovers an old patchwork quilt left to her by her grandmother, and becomes intrigued by the curious verse embroidered into its lining.
When her best friend, a fabric conservator, notices that some of the fabrics are almost certainly unique and rare royal wedding silks (called May Silks), Caroline becomes determined to discover more about the quilt and its mysterious origins. Through the fading memories of her mother, some family letters and photographs, some old cassette tapes and the help of a local journalist, she uncovers an extraordinary story involving a royal affair, a life of incarceration, an illegal adoption and two women whose lives collided with devastating consequences.
Finally, Caroline comes to understand what her Granny wanted her to know – the truth about herself and how she wants to live her own life." Maria Romano is called to the suites of young David (later Prince Edward III) just prior to his investiture as Prince of Wales. They form an attraction, a liaison which results in a child. What happens to the child and Maria is best read in the context of Trenow's story.
About the author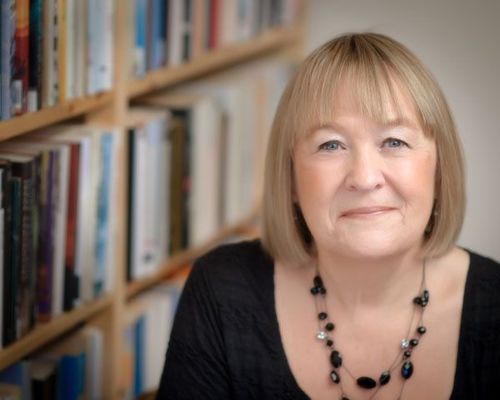 Liz Trenow (also Liz Curry) is British and lives in England. She was born and raised in a house next to the family's silk mill. Silk played a large part in her early life, although she admits to not fully appreciating it at the time.
Trenow wanted to become a journalist. After a few years of teaching skiing in Canada, she achieved her ambition. Many of her books have silk "woven" into the theme.
Find Trenow on Facebook and visit her website.
May Silks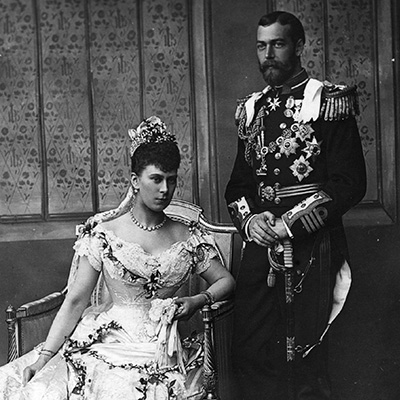 Left: Princess May of  Teck wed Prince George, Duke of York in 1863.
The design chosen for her wedding dress was "The May Silks" — a dress of silk featuring distinctive embroidery (in silver) of the emblems of a rose, shamrock and thistle, trimmed with the traditional orange blossom and lovers knots.
May took the name Queen Mary when her husband was crowned King in 1910. King George and Queen Mary were the parents of Edward VIII.
Note the rose, shamrock and thistle in this sketched rendition of the May Silks fabric.

A Dramatic Coincidence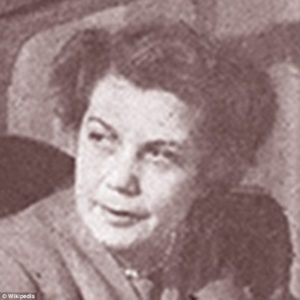 September 2016: It's reported in newspapers around the world that Queen Elizabeth II may have a newly discovered royal cousin who is seeking DNA confirmation of the story he unfolds … Marie-Leonie Graftieaux was a talented seamstress in Paris, working for a well-known Parisian designer. It is told that she met the young Prince of Wales at Luna Park, a destination which is mentioned in the Duke of Windsor's memoirs and also in Marie's diaries.
Their relationship may have resulted in a son born June 5, 1916. Marie refused to name the father. Yet soon after the birth, she "rocketed" from seamstress to be one of Paris' top designers and owner of her own fashion house. At this time, she changed her name to Marcelle Dormoy. Her child's name was Pierre-Edouard Graftieaux. His birth was not registered until a year after the fact, and still no father was named. His mother was very tight-lipped, throughout her life, over the father's identity. Pierre served as a French army officer and married Marie-Rose, a Swiss national.
Their son, Francois-Pierre Graftieaux was born in 1946 in Fez, Morocco, where his father worked as a civil servant detached by the French government. Read more: News story in The Telegraph on 21 September 2016. Story on Starts at 60.
The Cadenas Bracelet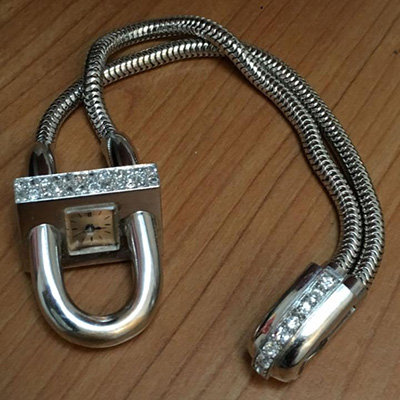 At the time of Francois' birth, Marie-Rose received a mysterious gift. It was a Cadenas diamond and platinum bracelet watch produced by Van Cleef & Arpels. This is identical in style to a bracelet given to Wallis Warfield Simpson about 1936; it was reportedly designed for her by King Edward VIII, with a discreetly hidden timepiece so Wallis could tell the time at functions without appearing rude to guests. [See Sotheby's website for more detail.)
This bracelet has been handed down in the Graftieaux family. On a side note, the Duchess of Windsor eventually gave her bracelet to the Condesa Vuida de Romanoes. It was sold at auction by Southeby's in 2011 for £286,000. It's noted that young Pierre Graftieaux did not have the means to purchase such a trinket for his wife. Was the bracelet a gift from [then] Duke of Windsor to his little grandson?
A Family Resemblance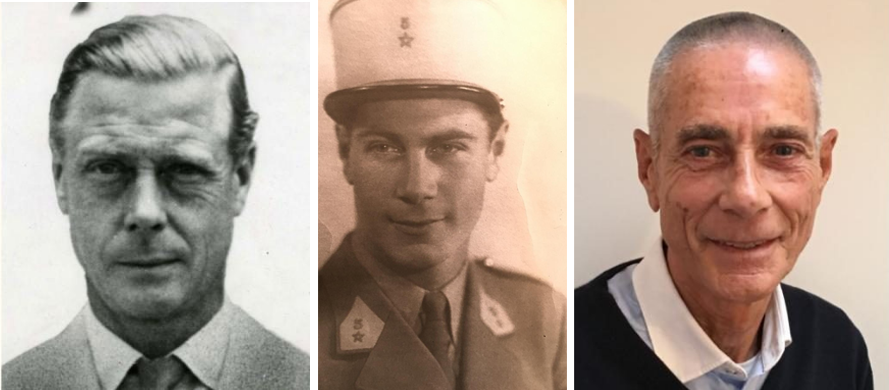 The Duke of Windsor, shown with Pierre-Edouard Graftieaux and Francois-Pierre Graftieaux.
It's true that there is a marked resemblance between the three men! Besides looks, the circumstances of both stories are remarkable. Maria Romano as a talented seamstress who is bedded by the young prince at Buckingham Palace. Marie-Leonie — another talented seamstress who is reportedly bedded by the young prince in Paris.
Yet, Liz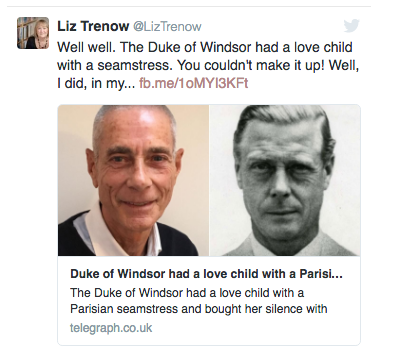 Trenow's book was researched and published in 2014. And recently, when the news articles came out about the book that Francois has published (L'Homme Qui Aurait Dû Être Roi), Trenow tweeted this response!
It's quite an intersection of time and circumstance and personalities.
But it does not stop there … let's find out now about Marie-Marguerite Alibert, also known as Maggie Meller, a famous courtesan who was just coming into her own in Paris after World War I. And who had a well-publicized and tempestuous relationship with Prince Edward VIII.
Love Letters
The Woman before Wallis: Prince Edward, the Parisian Courtesan, and the Perfect Murder | Andrew Rose The letters are the essence of another book relating the shenanigans of the Prince of Wales in Paris with colorful companions. Mentioned in the context of The Forgotten Seamstress as validation of David's whereabouts during the time(s) claimed as births of both the fictional child and the purported child, this book gives an excellent view of the climate in Europe post World War I (among the rich and famous) and is nicely documented, as well. Marguerite Alibert Laurient marries Egyptian 'Prince' Ali Kamel Fahmy Bey after David has taken up with Mrs. Freda Dudley Ward. In 1923, Maggie shot her husband at the Savoy Hotel in London.
She had retained all of the steamy love letters written to her by the Prince of Wales, and Maggie is reported to have used the letters as inducement for an intervention in her trial for murder. An interesting verdict of 'not guilty' was rendered.
Found on YouTube: Documentary published 7 April 2016 based on this book and narrated by Tim Pigott-Smith.
Rounding out the Story
The Royal Nanny: A Novel | Karen Harper Obviously a work of fiction, but the author admits to significant research for her story. It's an interesting pairing with A Forgotten Seamstress, in that it paints a telling portrait of the upbringing of the royal children of King George V and Queen Mary by nanny Charlotte Bill (and various tutors).  "Lala" (so nicknamed by the children) was retained until the death (epilepsy) of little Prince John in 1919.
After young David leaves the nursery at Sandringham, he writes numerous letters back to Lala through the years, including letters during the time he was in Paris during and after World War I. According to the story in this novel, Lala was approached by representatives of the royal family's legal counsel and asked to surrender all of the letters written to her by Prince Edward.
Request this book and others mentioned in this review from: The Bookmiser